With the leaves changing Pumpkin Spice flavored ingredients are everyones favorite. This simple recipe using easy ingredients will become a resident favorite for the holidays.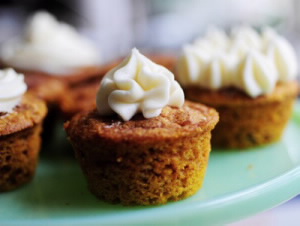 Pumpkin puree is a common canned staple readilly available year round at a stable cost.  Not limited to pies alone, this versatile ingredient can replace a portion of eggs, shortening, and sugar in baking recipes.
The Recipe
Pumpkin Cake
Ingredients

·     1 5# box yellow cake mix

·     1 #10 can pumpkin puree

·     1tsp salt

·     2 tbls cinnamon

·     1tbls nutmeg

·     1tbls clove

·     1tbls allspice

·     2c brown sugar

·     1 #10 sweetened condensed milk

·     4 16oz whipped topping tubes

·     additional cinnamon for garnish

Preparation

·     In a stand mixer combine pumpkin puree, sugar, salt, and spices and beat on medium until smooth

·     Add cake mix and mix on low speed until combined, batter will appear thicker than yellow cake

·     Portion with #10 disher into muffin pan lined with paper cup liners

·     Bake at 350 degrees until toothpick comes out clean, approx. 18 minutes.

·     While hot, portion one tablespoon of condensed milk over each cupcake and let cool

·     Once cool, pipe or spread whip topping on each cupcake and sprinkle with additional cinnamon for decoration
The Presentation
This recipe will yield approximately 60 standard cupcakes garnished and ready to serve on your buffet, or as an individual dessert. Wrapped tightly they will hold refrigerator for up to 3 days, or can be frozen for future use.
Modifications
Adding nuts or molasses can change the texture or adjust the sweetness accordingly. Also try different combinations of the holiday spices to truly customize the recipe.
Cream cheese icing would also make a rich topping to the cupcakes.
Removing the sweetened condensed milk can yield a more tradition less moist cupcake, which cake beaugmented with dried cranberries or cherries for a fun autumn pumpkin muffin.
Baking the recipe in a sheet pan, or bundt pans can change the presentation, and be used to adjust portioning. Spray and flour the baking container for a quick release.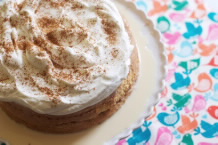 How Can Dietary Management Software Help?
The creation of simple yet elegant menus can be aided by dietary management software; this allows the analysis necessary to create nutritional yet flavorful dishes that remain cost effective.
By reviewing the costs and yields of ingredients by items and seeing real time nutritional information of a recipe, you can create menu staples that will stand the test of time by satisfying your clients every needs.
Also by having dietary management software your information is organized in a more efficient and streamlined manner allowing your chefs more time to create, improve and train their cooks to enhance guest satisfaction.