Beef Burgundy Recipe
Beef first entrees are not always the first thought when planning your institutional menu; the cost versus quality ratios is often very high and/or steep. Recently I revisited a traditional classic with a new cut of beef, and a simple recipe that brought a high level of percieved value, at both manageable food and production costs.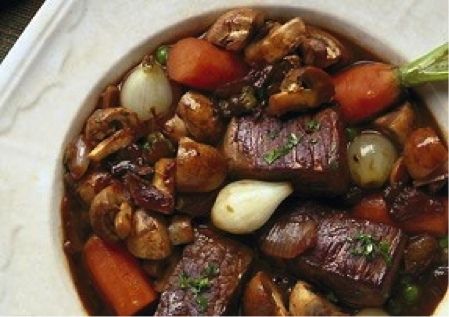 Boeuf à la Bourguignonne – /Noun/
A stew of beef braised in red wine, and beef broth; generally flavoured with garlic, onions and a bouquet garni, with pearl onions and mushrooms added towards the end of cooking.
Ingredients
30# Chuck Flap Meat – Diced ¾ Inch
1c Vegetable Oil
Salt & Pepper
½ c Vegetable Oil
3# White Onion ¼ Inch Dice
¼ c Dry Thyme Leaves
1 Quart Cooking Sherry
1 #10 Can Marinara Sauce
1 #10 Can Diced Tomatoes in Juice
2 Packages Instant Beef Gravy Mix
1 ½ Gallon Water
1 #10 Can Mushroom Stems & Pieces Drained
Preparation
Season diced Beef with oil and salt & pepper to taste.
Brown well in tilt skillet with high heat then remove and reserve beef.
Add additional oil if needed and brown onions stirring as needed.
Add thyme leaves, marinara, and diced tomatoes and sherry. Cook until liquid has thickened slightly.
Add water and instant gravy, whisking continuously to prevent lumps and allow to thicken further, about 10 minutes.
Add mushrooms and return beef to mixture, simmer for 1 hour or until tender.
The Cut
The Chuck Flap- a lesser known quality byproduct of creating consumer cuts of beef chuck. This cut is commonly carried by broudline distributors as a "chuck flap" or "beef 116G" My price today is $4.78/pound, which is staggeringly less than boneless short rib (a qaulity braise cut at around $8.50 pre trim), and signficantly less than broiler cuts. It comes in an effective shape to dice with no trim needed for braising.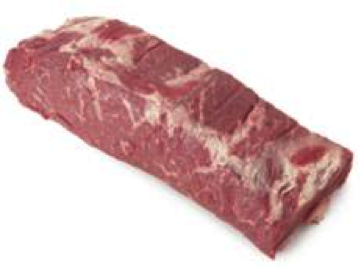 The Presentation
This recipe will yield aproximately 120 4oz. beef portions with 3-4 oz. of hearty gravy. Served over egg noodles this dish crates a center of the plate meal that is filling, has overall mass appeal and is very tasty.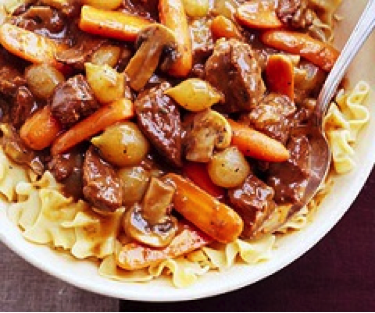 Modifications
Adding potatoes, baby carrots, or peas during the braise can create a more stew like dish while adding an additional serving of vegetables.
Topping with instant potatoes or puff pastry creates a quick beef sheppard pie or pot pie.
Additional liquid and cut vegetables or frozen vegetable medley can turn this into a hearty winter soup.
Add variety by changing herbs and spices. An addition of rosemarry would bring a pleasant aroma; although adding curry powder would add ethnic flair. While the addition of cumin and chili powder could take you to the southwest.
Try substituting the gravy mix for a low sodium alternative for special diets, or replacing it with stock and roux for a more homemade taste.
How Dietary Management Software Can Help
The creation of simple yet elegent menus can be aided by dietary management software; this allows the analysis necesarry to create nutritional yet flavorful dishes that remain cost effective.
By reviewing the costs and yields of ingredients by items and seeing real time nutritional information of a recipe, you can create menu staples that will stand the test of time by satisfying your clients every needs.
Also by having dietary management software your information is organized in a more efficient and streamlined manner allowing your chefs more time to create, improve and train their cooks to enhance guest satisfaction.